SENIOR LIVING IN NAPLES FLORIDA
WE'LL HELP YOU NAVIGATE SAFELY TO YOUR NEXT HOME
Senior Living in Naples Florida is exceptional! Naples, Bonita Springs and Estero are offering a wide selection of living possibilities for the BEST AGER Generation. Starting with Active Adult or 55 plus Communities, to independent living, assisted living and so on you will find the place you feel home! Alexandra Janz, is specialized as an SRES® what means a "Senior Real Estate Specialist".
What qualities make an SRES® different?
Has knowledge, experience and compassion in dealing with senior issues.

Can suggest housing alternatives, including ones that may allow an aging parent to remain in the home instead of selling it.

Takes a no-pressure approach to the transaction and has a strong service orientation.

Will take the time needed to make a client feel comfortable with the complex selling process.

Understands the emotional demands a sale can make on a senior and tries to minimize them.

Tailors the marketing of a home to the needs of an older client.

Can interact easily with all generations, including seniors, adult children and caretakers.

Is knowledgeable about local senior housing options and elder support services.

Has a wide network of other senior-focused professionals who can assist in tax counseling, financial and estate planning and other aspects of the sale and move.
Why I Decided to obtain the SRES Designation & What is means to me.
Since I was child, I was fascinated by people's history and the stories they told me about their lives and the experiences they had. And of course, the older the people were, the more they could tell me. When I was a teenager, I started to go grocery shopping for elderly people or helped them in other ways. In my adult life, I was a volunteer at the Seniors Club at Malteser Hilfsdienst-this is similar to the American Red Cross. I learned a lot about the needs of people as they age, and also about their wishes for future free of responsibility from their home and its upkeep. 
Unfortunately, early in my live, my parents became ill. My father got cancer in his late 50s. My mother had issues with her heart. And my brother and I, we were in the middle of everything, working full-time and trying to manage everything between the hospitals, washing clothes and getting used to all the documents needed to get help from the different insurances, retirements offices and all the bureaucracy it comes with. 
My father was more and more in need of daily assistance in his early 60s. And my mother could not take care of him on herself. Heartbroken, we decided to bring my father to assisted living, first in daily care, then we found a place in our neighborhood he was able to stay; this was awesome because we and all his friends were close. My mother went into independent living in the same facility. It was a lot of work, clear out their condominium, decide what they can bring to the new living facility, sell and donate furniture, get rid of all things my parents called home.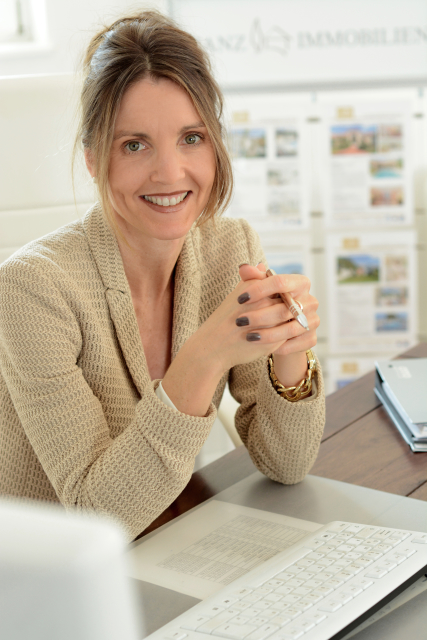 It was a hard time, and thinking back I honestly don´t now how we both managed everything. But this was only possible because my brother and I both lived close to our parents, and we were able to take care of them and to organize everything.
Why Do I Tell This Story?
Because I really know about the thoughts-the fear of people aging and the feelings of adult children, especially if they cannot be close and give the help my brother and I could offer.
I love to help and support seniors, to help them make another important step in their life.
Together with my husband Juergen Haeringer, Real Estate Sales Associate and Certified Probate Real Estate Specialist, we are here to support, assist and connect. We have more than 19 years' experience in the real estate business. We are local, full-time residents, and our real estate marketing reaches the whole world.
My Philosophy:
I believe the role as your Seniors Real Estate Specialist is to guide you safely through the buying and selling process, to take the time to understand your needs and to make sure you understand every step of the transaction.
My Goals Are:
To help you understand all of the important choices that lay ahead.

To completely understand the emotional aspect of making these choices.

To provide financial information and other useful resources.

To help you make educated decisions about available housing options.

To plan the best strategy for finding you the right property.

To make sure that your existing property gets the best marketing so I can sell it for the best price possible.  

To be available for you whenever you need my support as a Seniors Real Estate Specialist.
An SRES® maintains a professional network that includes individuals who can help with various steps of the sale and move, offering assistance on these and other matters:
• The decision to sell: reverse mortgage counselors that can look at ways to use the home's equity to allow a senior to remain in their home if preferred.
• Prior to listing: tax specialists and financial planners to examine ways to protect assets.
• Preparing the home for showing: handymen, landscapers and clutter reduction specialists.
• Legal considerations: real estate attorneys to help with estate planning or closing.
• Moving: downsizing experts, senior moving specialists, estate sale planners, and storage facilities An SRES® also has ties throughout the local senior community.
A Seniors Real Estate Specialist ® actively participates in a variety of senior and community service organizations. They can provide referrals to resources such as Meals on Wheels, public benefits offices, transitional services coaches, grief counselors, and other services, as needed.
MAKING LIFESTYLE DECISIONS
As your Senior Real Estate Specialist, we understand the importance that lifestyle needs to play in your real estate decisions. That is why it's essential to formulate a detailed plan of action in order to determine your future real estate decisions. Whether it's health and wellness, estate planning, retirement, your career or other crucial life events, our Senior Lifestyle Planning Guide can help you establish your lifestyle-related real estate priorities.
Contact us for your Senior Lifestyle Planning Guide to discuss the lifestyle factors that will most likely influence your decision on your next real estate move.
Request your Lifestyle Guide
As a mature adult who is over the age of 50 and looking to buy a home in Naples or to sell your Naples residence, you may envision your future home in a way that you haven't in the past. Today, you've got certain objectives and needs that may not have existed...